...not just for Canadians!
If you have something to announce that is of interest to the community, or if you're going overseas and need to sell a few things, let us know and we'll try to help. The nature of the announcement should be of a not-for-profit/community nature (or of significant benefit to the group). If you're a business who'd like to make promotional offers to the group or sponsor an event then contact us to discuss.
PALACE CENTRAL - CINEMA REIMAGINED - OPENING 12 OCTOBER 2017
One of our amazing sponsors - Palace Cinemas - is about to open PALACE CENTRAL at the award-winning Central Park Mall (next to Central Station Sydney).
Comprising 13 screens, including three Platinum cinemas, multiple sundrenched lounges and bar areas, a wine wall and a beer hall, the cinema represents a transformation of the traditional cinema-going experience. It is Cinema Reimagined.
The cinema is located on level three, boasting penthouse views and sweeping vistas over Broadway. To complement its boutique-style auditoria and stylish décor, the fully-licensed cinema will offer quality new release films and a collection of international film festivals. And yes, you can take your drink in with you!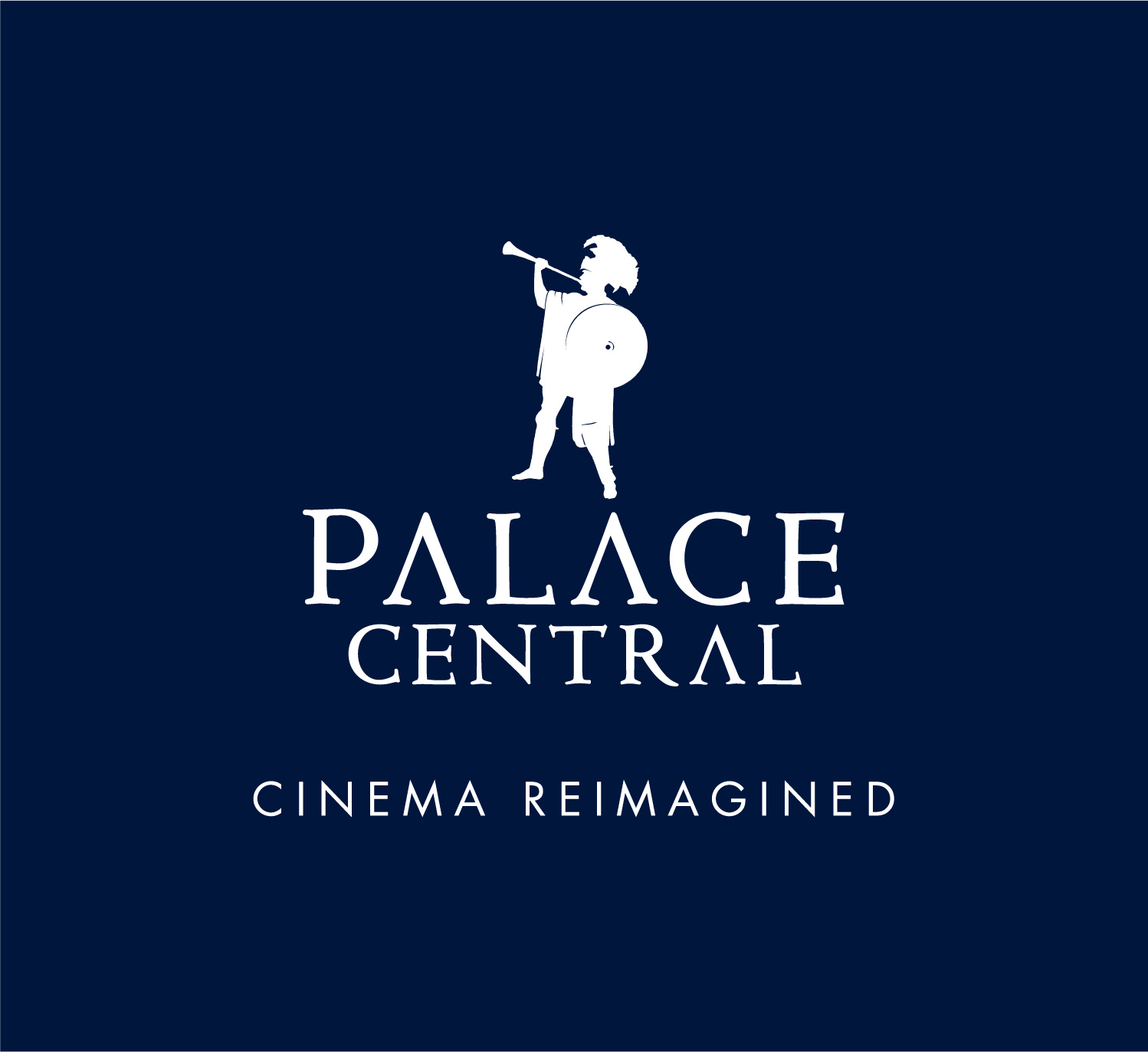 HOCKEY HOCKEY HOCKEY... OY OY OY
Missing hockey? The AIHL Finals presented by Air Canada are coming to Melbourne 2-3 Sept. Game Packages and single tickets are on sale now. Check out what's planned for the weekend and book your AIHL Finals weekend pass now! Tickets & Info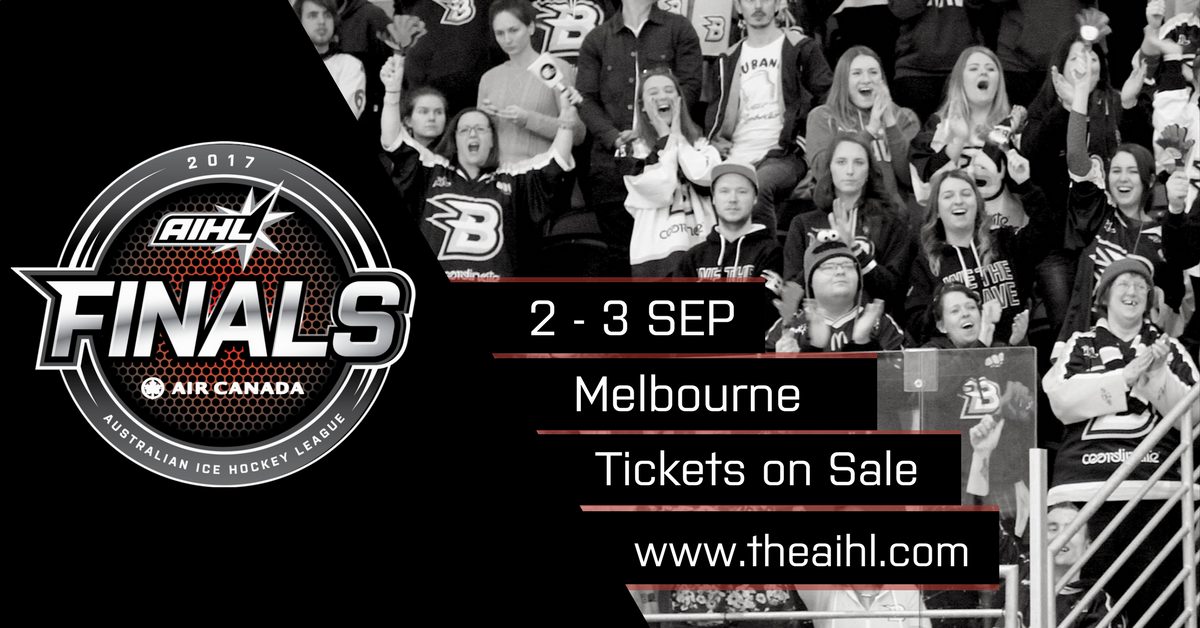 SERIOUS FUN - 11-17 SEPTEMBER 2017
Just for Laughs, the amazing Canadian comedy festival is coming to various venues throughout Sydney from 11-17 September. This is the 7th edition of Just For Laughs Sydney and it's got another amazing line-up, featuring some of the funniest international and Australian comedy stars including Kevin Bridges, Rhys Darby, Gad Elmaleh, Bert Kreischer and podcasters My Favorite Murder. The annual Just For Laughs All-Star Gala and The Comedy Channel's Just For Laughs Australia: Live hosted by Tommy Little are also returning, boasting an incredible line up of stand-up shows.
We'll be giving away some free tickets via Network Canada's social media in advance of the shows but starting booking tix for the show you like cause they often sell-out pretty fat. Check out the Just for Laughs Line-Up here!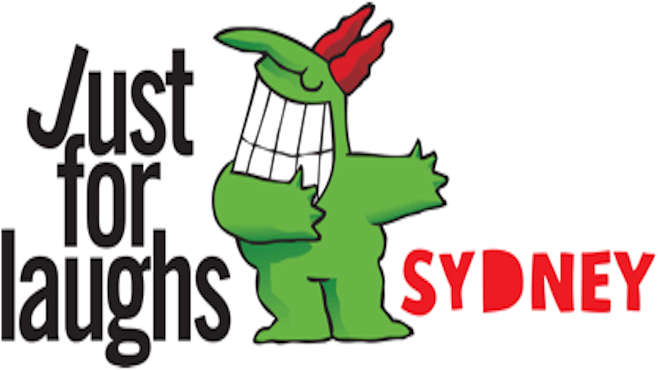 FIRST NATIONS OF BC: ART FROM THE KWA-GUILTH - 29 JUNE, AUSTRALIAN MUSEUM
On June 29 the Australian Museum will be hosting an evening of First Nations art from the Kwakwaka'wakw people in British Columbia. The focus will be on the Cape Mudge collection with gripping stories of how the collection came to be in Australia and the eventual landmark repartition project which saw some of the rarer pieces being returned to Canada. We will also discover how contemporary Kwakwaka'wakw artists Richard and Calvin Hunt are sharing a true representation of their culture and artistic practice with Australia.
The full event details can be found here.
SEX, LYNCH AND VIDEO GAMES - 19 JANUARY 2017
Part of the incredible Sydney Festival, Montreal's Nicole Lizée fearlessly brings pop, MTV videos, turntablism, rave culture, cult cinema and psychedelia into the realm of classical and jazz music. Sex, Lynch and Video Games features Lizée performing her works with the acclaimed Australian Art Orchestra - led by daring composer/trumpeter Peter Knight. The multi-part program explores Lizée's unique responses to 80s and 90s screen culture. This is unique and exciting, and the most fun you'll have at a 'serious' music concert. More info and tickets here.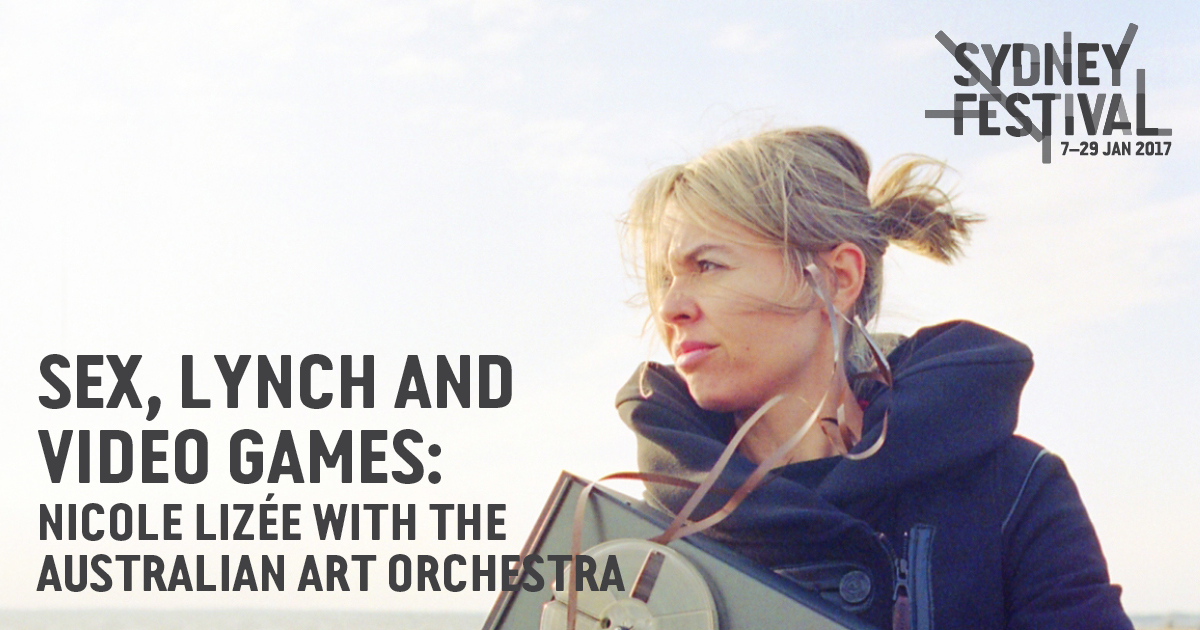 GENDER-OUSLY ENGAGING - 25-29 JANUARY 2017
Another brilliant installment to the iconic Sydney Festival, Award-winning Canadian spoken word performer Ivan Coyote brings an all-tomboy cast to life in Tomboy Survival Giude. Stories, music and memories are blended in a fearless, wry-humoured and tender insight into gender issues, defying the norm and finding ones identity. This music and story-driven collaboration includes high-energy drumming and percussion from Sally Zori, the melifluous basslines of Pebbles Willekes and the graceful tinkerings of trumpet player Alison Gorman. Part anthem, part campfire story, and part instructions for the dismantling of the gender stories we tell. More info and tickets here.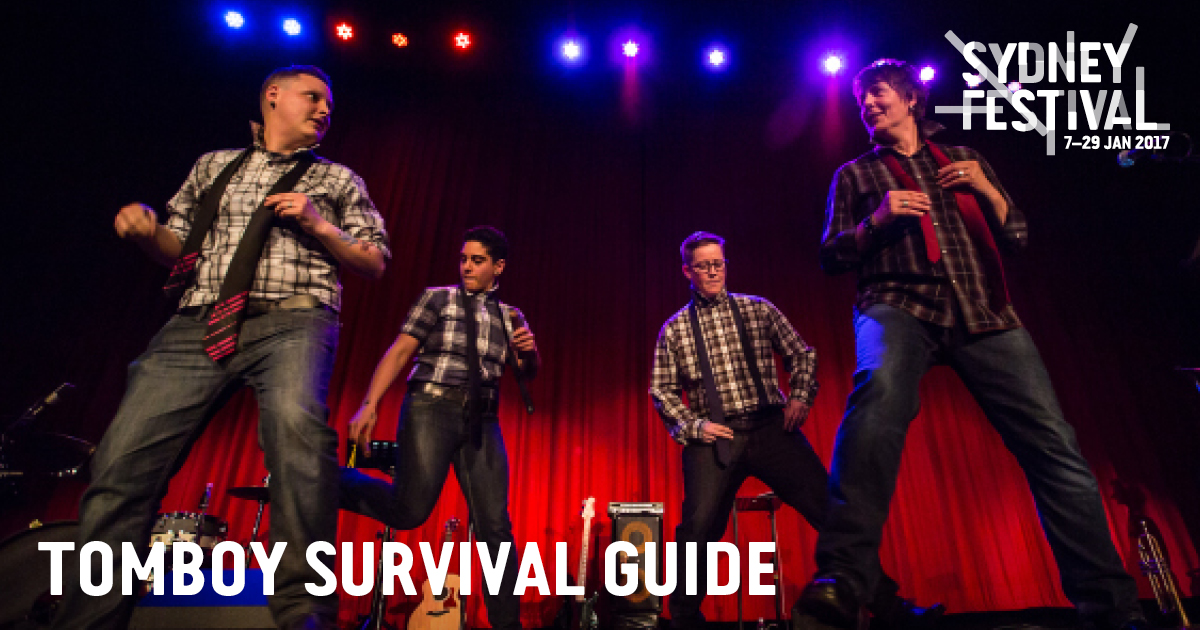 FLOWER POWER FOR OUR GROUP



FYI, this 5% discount is IN ADDITION to any other special offer so always mention it to save a bit more!
A (NON) TAXING SITUATION - 26 OCTOBER MELBOURNE, 27 OCT SYDNEY
Tax Planning for Canadian Expatriates. This free seminar will focus on Canadian residency for tax purposes; Canadian filing and reporting requirements; Tax planning for Canadian expats, either departing Canada or arriving in Canada; ownership of property in Canada and the tax implications for Canadian non-residents; Tax implications for the ownership of investments in Canada and abroad for Canadian non-residents; and questions about other expatriate tax issues will be answered.
Melbourne event:
Wednesday, October 26, 2016
6:00 PM – 8:00 PM
RACV Club Bourke Room, Level 2, 501 Bourke Street Melbourne VIC 3000, Australia
Cost: FREE
Sydney event:
Thursday, October 27, 2016
6:00 PM – 8:00 PM
OFX Head Office Boardroom, Level 20, 60 Margaret Street Sydney NSW 2000, Australia
C0st: FREE
Registration: Please register at events@trowbridge.ca and indicate the date and time of the event you are interested in attending.
LAUGH IT UP FUZZBALL - 6-11 SEPTEMBER
Just for Laughs, the amazing Canadian comedy festival is coming to the Sydney Opera House 6-11 September. AS usual, there's a great line-up of International & Australian comedians. We're giving away some free tickets via social media in advance of the shows. Check out the Just for Laughs Line-Up here!
"7 DAYS" ONLY LASTS FOR 12 DAYS... 18- 29 MAY, CREATIVE SPACE 99, DARLINGHURST
7 Days in the Life of Simon Labrosse is a brilliantly written farce by Canadian, Carole Frechette and presented by Theatre Execentrique. Don't know how to handle your angry partner? Struggling to express yourself? Do you wish people noticed you more often? Well, Simon Labrosse has the answer! For a reasonable price, he offers his services as an emotional stunt man, a finisher of sentences or your very own audience. All guaranteed to help you bear the emptiness of your existence!!$25 IF YOU BUY BEFORE 30 April. Book online and quote FRECHETTE at checkout. MORE INFO
SHANE HAS SPOKEN... 20 MAY SYDNEY & 22 MAY MELBOURNE
"A spoken-word Superstar" –The Globe and Mail
"Homer must have sounded (like this)...or Ginsberg or Kerouac" –The Lumiere Reader
"Shane Koyczan is at the heart of a Category Five creative hurricane"–The Vancouver Sun
As a recognised author and spoken word artist Shan Koyczan has emerged as a creator of poetry that dares to belong to the people and speak directly to them in their own voice. Winner of the US Slam Poetry Championship and the Canadian Spoken Word Olympics, Koyczan is truly an extraordinary talent that has blown the dust off the traditional designation of "Poet". MORE INFO

THE BROS LANDRETH HATH LANDETH.. IN SYDNEY, 28 MARCH, NEWTOWN SOCIAL CLUB!
"… strong song-writing and striking vocals, adding a twist of blues to the band's harmony-heavy Americana style…the guys have been known to really dial it up on-stage" – Paste Magazine
Canada's exciting new Americana/Country group The Bros. Landreth are coming to Sydney to premier their debut album Let it Lie. Comprising of siblings David & Joey Landreth (sons of renowned Winnipeg musician Wally Landreth) & friends Ryan Voth & Alex Campbell, The Bros. Landreth are melting hearts with rich, textured harmonies and heartfelt, earnest lyrics. Already blazing trails the world over Let it Lie has scored the band a 2015 Juno award for Roots & Traditional Album of the Year, New/Emerging Artist of the Year at the 2014 Canadian Folk Music Awards as well as a nomination for Contemporary Album of the Year, plus Rolling Stone named them in their list of Country artists you need to see in 2015. MORE INFO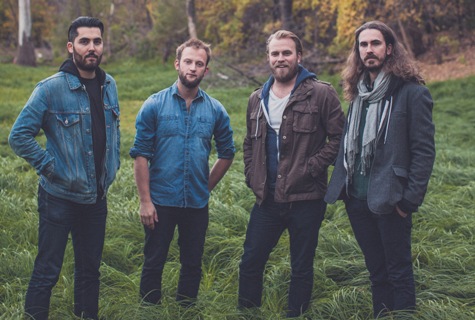 THESE MINERS ARE ACTUALLY GOOD FOR THE ENVIRONMENT!
Canadian singer songwriters the Belle Miners are helping Greening Australia who are working hard to restore endangered habitat in the Tasmanian Midlands. Greening Australia are one of Australia's leading land restoration trusts. They work with some of the biggest landowners in Australia and through a meticulously engineered process, re-establish huge areas for conservation and landscape health. The rewards are measured in generations of benefits for land, wildlife and people.
THIS IS DEFINITELYLY A LAUGHING MATTER
Just for Laughs, the amazing Canadian comedy festival is coming to the Opera House next month (Oct 19-25). There's a great line-up of International & Australian comedians. We're giving away some free tickets in advance of the show. Check the Network Canada Facebook page for more details. Check out the Just for Laughs program here!
FROM THE HEART... FOR THE HEART
Catriona Smith, from the Consulate General of Canada, is participating in her very first triathlon on Oct 26 - the Nepean. She is seriously stepping out of her comfort zone undertaking this event and was inspired by her late friend Allison Brennan, formerly of the Canadian Tourism Commission.
Catriona is dedicating her participation to Allison and at the same time, raising vital funds for the Heart Centre at Westmead Childrens' Hospital. Many people may not know that last year Catriona & Jason's newborn son Monty almost lost his life at 7 days old due to cardiac failure. If it wasn't for some quick thinking, trusting their parental intuition, they were helicoptered to Sydney where Monty underwent emergency heart surgery at Westmead.
There is a vital need for a new cardiac ultrasound machine for the Heart Centre, which comes with a price tag of over $400K. It is the key diagnostic tool for over 3500 babies and children who are treated at Westmead annually. There is only $15K left to raise and Catriona has put her hand up to get them over the line. In just 3 days, Catriona has managed to raise $5000 and is overwhelmed by the generosity of others.
Please visit: https://give.everydayhero.com/au/catsmith to support her cause.
A SURE THING HITS SYDNEY - SEPT 11-15 and 25-29
One of Network Canada's own is making her debut as a producer right here in Sydney!Walking Moose Theatre Company is proud to present David Ives' "Sure Thing". This 15 minute laugh out loud comedy is a whirlwind story of serendipity, first impressions and do-overs. It's perfect for those after dinner plans, or before drinks. Purchase tickets from www.sydneyfringe.com or (02) 9020 6980. Tickets: $15 Adult $12.50 Concession. Dates & Time: 10pm, September 11-15 and 25-29 (inclusive).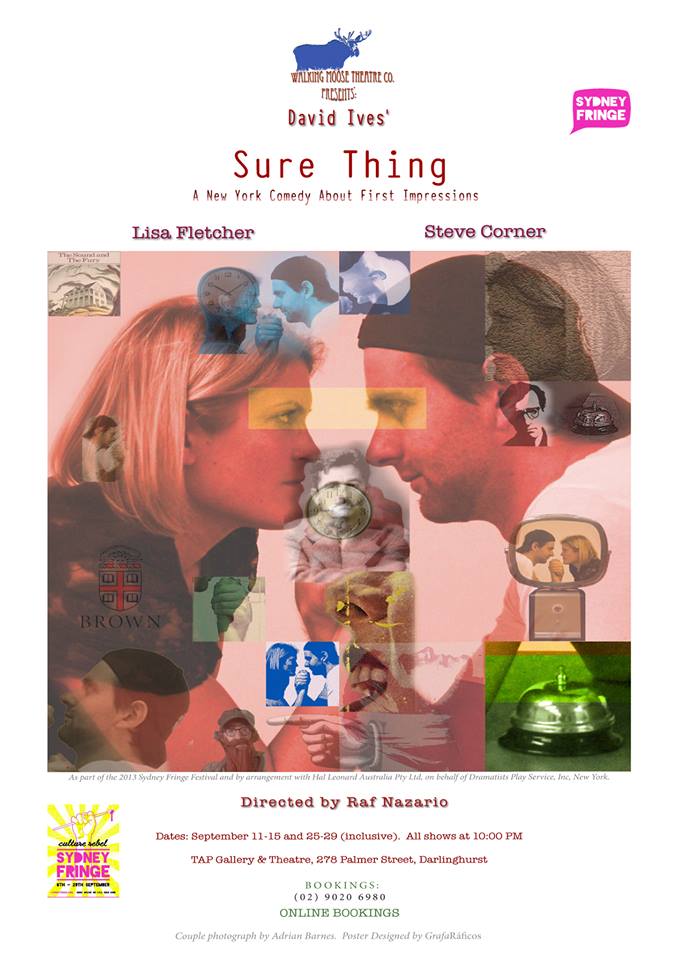 STORM THE BASTILLE - LE 13 JUILLET 2013!
Our good friends throughout the Sydney-French community are throwing an AMAZING party to celebrate Bastille Day! We're talking Cancan shows, DJs including the amazing French Mafia, make-up artists, crêpes, French liquer tastings and much more not to mention a free drink if you get there by 7pm. a "Tour de France" cycling competition, French DJ's and more. Full info available at bastilledaysydney.com.au

CANUCK FOR CAMBODIA - 9 NOVEMBER 2012
One of our fellow Canadians living in Australia is hosting a 'Night in Cambodia' Gala Dinner at Dockside Darling Harbour. The night is raising funds for the Challenge for Change team, a group of 20 UTS students who are cycling, trekking and raising over $60,000 for The Oaktree Foundation in January 2013. The ticket includes a 3 course Cambodian inspired menu, with unlimited beer, wine and soft drinks throughout the evening. There will also be Cambodian dancers, culture and some fantastic guest speakers. MC'd by radio and TV personality Anthony 'Becks' Toohey (from the Ant and Becks show), the night is sure to be a blast. Plus over $10,000 in prizes to be won! Full details.
CANADA VS USA...ON ICE - 22 JUNE 2013
An Australian first, the American Ice Hockey Pro Series is coming to Sydney (Allphones Arena) with a Canada Vs USA game. Tickets go on sale in early 2013 and should be about $79. Full details.
FRENCH-CANADIAN FILM MASTERPIECE IN AUSTRALIA
CAFE DE FLORE - Coming to Dendy Cinemas April 25th! Healing a broken heart isn't easy. Sometimes it takes a lifetime...or two. Starring the beautiful Vanessa Paradis, Cafe de Flore is a love story about people separated by time and place but connected in profound and mysterious ways. Atmospheric, fantastical, tragic and hopeful, the film chronicles the parallel fates of Jacqueline, a young mother with a disabled son in 1960s Paris, and Antoine, a recently-divorced, successful DJ in present day Montreal. What binds the two stories together is love - euphoric, obsessive, tragic, youthful, timeless love.

Psst, Network Canada has some free tix to give away...check your email from us or the upcoming events page re Cinco de Mayo!.
LORD STANLEY'S CUP
We've had lots of people asking where they can get together with fellow hockey fans to watch the playoffs. The answer is Cheers Bar (561 George St, Sydney CBD). Cheers will show virtually all games throughout the playoffs that Fox has. Go upstairs (which will be the designated meeting spot for hockey fans) and ask them to turn the game & volume on. Even if it's a small group, they'll happily show it for us. Once we get closer to the Canucks making the finals, we'll start organising bigger crowds.
YOU OUGHTA BE IN PICTURES - AND PROMOTE CANADA AT THE SAME TIME!
Have you travelled and worked, or done an internship, in Canada on a Working Holiday work permit? If so, we want to hear your stories! A video is being put together to raise awareness of International Experience Canada's Working Holiday initiative, and we want to talk to people based in Sydney who have experienced life and work in Canada. The video will be screened throughout the Canadian Film Festival!

For a small amount of your time you'll get the chance to star in a widely-screened video (along with a financial incentive) – if this sounds like you (or a friend) then please get in touch asap as the cut off is April 26th!
THE RIDE TO CONQUER CANCER
Some members of Network Canada will be cycling over 200km in a 2 days to raise money & awareness for the Chris O'Brien Lifehouse at the Royal Prince Alfred Hospital in Sydney. It's a world-class cancer treatment and research facility providing integrated care and support services to public and private patients. Click here if you'd like to donate or volunteer.
RESORT STYLE APARTMENT FOR RENT IN SYDNEY... IN DECEMBER
Canadians Julie and Nicolas are willing to rent their spacious and modern apartment from Friday December 16th (key handover at 2PM) to Monday December 26th. The price is 135$ per night which is well under market price for that period. Features you will enjoy: spacious living room with satellite TV; office with High Speed Internet; spacious dining room sitting 6 guests; 1 bedroom with king size bed and spacious bathroom; fully furnished with fridge, stove, washer, dryer and dishwasher; the location: conveniently located 2 minutes walk from St Peters station which will bring you down-town in 10 minutes; amazing views. If you're interested or want to see some pictures, please contact Julie +61 (0)468 926 191 or by email at juliel_@hotmail.com
SEPTEMBER 11th SERVICE FOR EVERYONE
The US Consulate General in Sydney, in conjunction with St Mary's Cathedral, is hosting an interfaith service commemorating the 10th anniversary of the tragic events of September 11, 2001. It will be held in the Cathedral (opposite Sydney's Hyde Park) on September 11, 2011. The event starts at 3:30 for 4PM and is open to the public. Please enter via the southern steps from Cathedral Square. Everyone is welcome.
ACCESSIBLE ARCTIC: FREE EXHIBITION
Celebrating 80 years of photography from the Canadian Geographic magazine. The Accessible Arctic brings the beauty of the North close to us as it speaks of its past, presentand future. These quintessential images ofnature and life in the arctic also remind us ofthe vast treasure that we hold in trust forfuture generations.Free entry. Open dawn to dusk daily until Saturday 11 June, 2011. Paddington Reservoir Gardens, corner Oatley Road and Oxford Street Paddington.
CALIFORNIA VISITS MELBOURNE FOR SOME BEERS
One of Network Canada's favourite beer sponsors (who brings us Blanche de Chambly and other amazing Quebecois beers) is launching the newest additions to its fleet which include a bunch of boutique Californian beers iin Melbourne on Monday, 16 May. Here are the details.
CANADIAN DRAMA HITS AUSTRALIA: MEET JAMES DOYLE...A LAW UNTO HIMSELF
Homesick from some Canadian TV? Then check out Republic of Doyle. Available at leading DVD retailers, this quirky Canadian comedy-drama follows former cops Jake Doyle (Allan Hawco) and his father, Malachy (Sean McGinley) who run a private investigations agency in a beautiful small coastal town, solving cases with methods, more often than not, on the wrong side of the law. The Doyle's and their 'family' form the perfect crime fighting unit although often with comedic, dramatic and surprising conclusions. Recently on the ABC, the Republic of Doyle Season 1 also stars Lynda Boyd and Rachel Wilson.
SUPPORT A LOCAL FRIEND OF NETWORK CANADA'S IN A TIME OF NEED
Please have a read of this article regarding the unfortunate circumstances of one of Network Canada's friends. Donations to the de Silva Family Appeal can be made at the Commonwealth Bank, BSB 062 826 account 10192423.
HELP A CANUCK SUPPORT AN IMPORTANT CAUSE & HAVE FUN AT TRIVIA!
Imagine not having access to basic things like food, shelter, healthcare and education? In developing countries like East Timor, there are many development challenges and unequal gender roles which create significant barriers for women for these basic things that most of us take for granted. Jody, a fellow Canadian & Network Canada regular, wants you to get behind her to help the women in East Timor build more sustainable lives through the International Women's Development Agency. Jody also has a terirific trivia night fundraiser planned (with awesome prizes) for 21 March, 2011. Feel free to go to www.gofundraise.com.au/jodyb and make your tax deductible donations or for details of the trivia night.
WANNA SHACK-UP WITH A CANADIAN???? FLATMATE WANTED - SOUTH COOGEE
I am offering a room and a living space in my new 2 bedrooms bright, quiet, flat in South Coogee, 12 minutes walk from the beach. You are a conscious person, clean, respectful, work or study full time, love what you do, kindhearted, a happy person, responsible and independent, have a healthy lifestyle. The room can be furnished or not. Prefer a long-term stayer and am asking for a bond of $1000. I work for myself as a speaker and a coach. I am French Canadian living here permanently, I am clean, friendly, optimistic, and independent, I have a quiet lifestyle. If it's of interest, please emaill me to visit the flat and let's meet! anick@anickpatry.com
SHOUT OUT TO ALL AMERICANS! IT'S TIME TO VOTE
It's September! Time to request a ballot for the November 2010 Congressional Midterm Elections! Living in Australia doesn't mean you've given up your right to vote in the USA. www.VoteFromAbroad.org is a website sponsored by Democrats Abroad that simplifies the process of registering to vote and requesting an absentee ballot for all Americans living outside the US. It lets you register online to vote in your home state and/or request an absentee ballot. Your voice counts! Vote in 2010.
COOL PARTY FOR A GOOD CAUSE (ACODO.ORG) - 5 Sept 2010
Some friends of Network Canada are hosting a very cool party to support orphans in Cambodia. Saturday, 5 Sept, Tatlers Nightclub, Kings Cross, Sydney, 9:00pm-4am. More details on Facebook.
HELP AUDREY GET HER WISH!
In March 2009, Audrey Myrden was diagnosed with a rare and very aggressive malignant brain tumour, and is very concerned about her family's future and the financial implications of her illness. Audrey is 43 years of age and has lived in Manly NSW permanently since 1998. Audrey and her husband Barry are originally from Canada, so they have no immediate family here in Australia.

Audrey has been a real fighter and inspiration to all around her. Please watch the following feature of Audrey on A Current Affair and find out all the different ways you can help out! Also visit Audrey's Wish to learn more.
NETWORK CANADA MEMBER FEATURES IN CANADIAN FILM FESTIVAL - 3 Aug 2010
Corey, one of Network Canada's longstanding members, is producing his second full length feature to be shown at Possible Worlds - 5th Canadian Film Festival. The film is called Passenger Side and it's had great reviews back home. Check it out along with the other great films at the festival.
HELP WOODY OUT - HE REALLY NEEDS IT
Hi all, this is a quick message to help a guy called Woody who has fallen on really tough times and is having to close the surf shop he's owned for 12 years on MacPherson St in Bronte. We walked in there randomly last night while waiting for some takeaway and this is his story in a nutshell:
He was diagnosed with a rare type of brain cancer/tumor last year
He had to go travel the US for surgery at a cost of around $50K
He was robbed while he was away and he wasn't insured
He's selling his remaining merchandise at giveaway prices to survive
We were heartbroken and resolved to try and help, so...If you or anybody you know is in the market for a new custom-made surfboard, a surfboard repair, a guitar or guitar equipment, please give Woody a chance to supply. His email address is oded.tzafrir@gmail.com. Woody doesn't know about it, but hopefully we can drum up some business for him!! From some Network Canada regulars
GRAPHIC DESIGNER WANTED
One of Network Canada's members is starting a new business and needs someone to help her design a new logo, website, flyers, etc. If you're interested in a fun little side project please contact Liliya on 0403 973 463.
HELP A HOCKEY PLAYER!
There are two professional ice hockey players moving to Sydney in April and staying for 4 months to play with the Sydney Ice Dogs in the National Hockey League. They both need places to stay. They're apparently very well behaved gents who will be training quite hard (i.e. not partying). Aside from renting rooms, they may also be looking to buy/rent a cheap car while they're here. The Ice Dogs are willing to throw in some season tickets, autographed jerseys and maybe even a sponsorship package if you run a business. You'll probably be able to brush up on your hockey skills as well. Contact us if you're interested!
OLYMPICS - be a part of the Closing Ceremony
The Canadian Tourism Commission is inviting viewers to upload their personal photo to be part of a virtual stadium, which will be populated with pictures of fans from all over the world in the lead-up to the Closing Ceremony of the Vancouver 2010 Olympic Winter Games on Feb. 28. Go to www.virtualstadium2010.com and follow the instructions to upload your photo and become part of an international community celebrating the spirit of the Games. Thanks for helping build the world's largest virtual stadium and supporting the Vancouver 2010 Olympic Winter Games.
On the bottom left of the virtual stadium sign up page is a link to Canada CODE! It's a grassroots portrait of the country created by several thousand Canadians who've come together to share who we are — with you. During the last year, as Vancouver has prepared to welcome the world to the 2010 Winter Games, people across the country have uploaded images and texts to be a part of the big picture on Canada CODE. Join us at http://code.vancouver2010.com
Special offer to Network Canada, just in time for Valentine's Day!
Our long time sponsor 1300 FLOWERS is now offering everyone a 5% discount on ALL products (they've got much more the flowers and they deliver everywhere in Australia). When purchasing (by phone or online) just mention the promotional code "CANADA5" to receive the discount. Great news just before Valentine's Day! There's no expiry for this offer so feel free to keep using it.
Canadians & Aussies come together for Cambodian Orphans
One of our Canadian Network Canada members, Tom Bender, and three of his Aussie mates leave for Southeast Asia on January 6 for three months to raise funds and awareness for the orphaned children in the region. The 4 lads will be accompanied on their epic Journey by videographer – Chris Clarke and Brian Lorimer – an accomplished Canadian artist.
Riding around on 650 cc motor dirt bikes the crew will find and capture some of the regions hidden acts of kindness on video – film and canvas with the hopes of selling the images and documentary. Their trip takes them through Malaysia, Thailand, Laos, Cambia and Viet Nam. The guys are paying for the trip out of their own pockets with all the funds going to the needy orphanages in the region. Network Canada fully supports Tom and his team and hope you will too. Please come join them on Thursday November the 19th at their fundraiser in Pyrmont, contribute $ or even just share your best wishes for them. The trip and all details can be found on www.city2sunrise.org.
Teton Gravity Research Down Under - the best ski flick of the year. Oct 16 & 17, Sydney
Long-time supporter of Network Canada, Teton Gravity Research is proud to announce the release of its new 16mm and HD ski & snowboard film Re:Session. Re:Session takes viewers beyond the traditional ski and snowboard movie into a revolutionary realm of action sports entertainment. Shot on both film and RED ONE high definition camera technology, Re: Session documents the true wealth of the mountain experience. Follow the crew as they score in one of Alagna, Italy's deepest seasons on record. Check out forbidden powder in Poland, massive wedges in Colorado, new gap jumps in Utah, and seven weeks of epic riding conditions in Alaska. Re: Session brings the most talented athletes in the sport together into one must-see film.
Check it out and remeber on the night to enter to win a trip for 2 to Hanazono Resort in Niseko Japan.
Quebecois playwright Olivier Choiniere's play Bliss
29 Oct - 22 November, Belvoir Theatre, Surry Hills. Bliss intertwines the lives of three very different women; the pop-goddess 'Celine', the despairing Isabel and an ordinary check-out chick. The play is a constant blend of reality and famtasy in a striking fusion of comody and horror.
Special offer: just state the word "Celine" when booking and get the discounted ticket price of $23. Call (02) 9699 3444 or go to bevoir.com.au.
Apartment to Share - Available Immediately
Two double size rooms furnished available in large and sunny, recently refurbished and clean 3 bedroom apartment. Block is secure and located in the heart of Coogee area. Ideally located - 5-8 min walk from Coogee beach, shops, cafés, restaurants and cinema, also 2 min walk to bus stop, so you'll have easy access to Randwick Junction, City, Circular Quay, Central Station, Sydney Uni, UNSW, Bondi Junction and Prince of Wales Hospital.

Apartment is fully furnished, nice and clean, with fully equipped kitchen. Washing machine is also available. Internet access.

We're looking for professional mature male/female clean and tidy, strictly nonsmoker, friendly and social. You will be sharing with professional girl 27 and one more person.

Short term available. The rent will be $230/week (no bills). Bond is $750.

Please contact Lily on kukla_lily@hotmail.com or Gloria 0416503186 after 6pm robertsg@tcd.ie
H.A.S.H Jeans & BRAWD Clothing
Many Canadians may remember the Winnipeg-based H.A.S.H Jeans company that briefly took on the world a few years ago. Well I've got about 100 pairs of them (men & women) here in Sydney and they've never been worn! There are various styles (jeans, skirts, minis, etc) and washes but they're all the same size: Women's 28' waist and Men 32' waist. Let me know if they're of any interest.
A VERY important cause - Audrey's wish to help her 3 children
On March 16th, 2009, Audrey Myrden was diagnosed with a rare and very aggressive malignant brain tumour, and is very concerned about her family's future and the financial implications of her illness. Audrey is 42 years of age and has lived in Manly NSW permanently since 1998. She runs her own environmentally friendly cleaning business and has 3 small children (all under 7). Audrey and her husband Barry are originally from Canada, so they have no immediate family here in Australia.
What makes her situation worse is that she has already fought and won a battle with Breast Cancer at the age of 27. This second cancer is totally unrelated to the first. Because of her previous illness, she has been unable to obtain any form of life or income protection insurance.
We have a golf tournament at the end of July and a Auction/Cocktail Party mid August. www.audreyswish.com.au
There is some urgency around gaining momentum on this as Audrey's prognosis is very serious and her immediate future uncertain.
Free Pancake Breakfast for Canada Day - July 1st, Wynard Park, Sydney CBD
The Canadian Tourism Commission will be serving a free pancake & maple syrup breakfast at WYNYARD PARK from 7:30am until at least 9:30am (or later) on the real Canada Day (July 1st). Everyone is welcome!!!
Ice Dogs - the coolest team in town
One of Network Canada's long standing sponsors, the Sydney Ice Dogs, has just launched a new and very user friendly website. Have a look and give a Dog a Blog!
Blue Tongue & Bondi Blonde become Network Canada's newest sponsors
Network Canada is thrilled to announce two new sponsors: Blue Tongue and Bondi Blonde. Bondi Blonde (which is brewed at the Blue Tongue Brewery) was invented by Dean Brunne, a fellow Canadian, Network Canada regular and all-round good guy. While Dean has since returned to the Great White North, there's no reason we shouldn't continue to enjoy his incredible creation! You can look forward to seeing Blue Tonge and Bondi Blonde and many future Network Canada events.
Blast from the past! Network Canada in the press
Someone just sent in an article from 2006 when the Sun Herald covered one of our smaller Canada Parties. Click here to check it out!
Moving - need to sell
Negotiable on price. Contact Network Canada and they'll provide more details and arrange contact:

- Queen mattress & base - Sealy posturpedic, used only in the guest bedroom so hardly ever used over the years
- Television - Panasonic 78cm with LG DVD player
- Couch
H.A.S.H Jeans & BRAWD Clothing
Many Canadians may remember the Winnipeg-based H.A.S.H Jeans company that briefly took on the world a few years ago. Well I've got about 100 pairs of them (men & women) here in Sydney and they've never been worn! There are various styles (jeans, skirts, minis, etc) and washes but they're all the same size: Women's 28' waist and Men 32' waist. Let me know if they're of any interest.
Apartment to share in quiet street near heart of Double Bay, Sydney
Large master bedroom (5mx6m) with a wall of built-ins in a huge 2 bedroom renovated Art Deco apartment in Double Bay Available from 22nd March. Call Sean Grant 0404 084 890 or (02) 9248 4592.

Looking for a friendly, responsible flatmate who cares for their home.

About the apartment:
· 200m from The Golden Sheaf and Woolworths, but in a quiet cul-de-sac
· Two lounge rooms - large main one and smaller lounge/dining room off the kitchen
· Study/sunroom/guest bedroom off the main lounge
· Massive double lock-up garage - 1 car spot available plus huge extra storage space
· Modern kitchen with dishwasher and internal laundry
· Renovated bathroom and separate toilet
· Big windows so lots of light and views over Double Bay valley
· 30 sec walk to buses to city and Edgecliff Station along New South Head Rd
· 3 min walk to ferries to Circular Quay from Double Bay Ferry Wharf
· 8-10 min walk to Edgecliff Station
· Also close to Bondi Beach and Bondi Junction shops and transport

Rent: $300 per week + bills (gas / electricity)
Bond: 4 week's rent
Help one of our sponsors win Restaurant of the Year - Voting Ends Friday 6 March 2009!
They've helped us now let's help them! For those of you who had a great time on Halloween or New Year's Eve, please nominate the Löwenbräu Keller for the Restaurant & Catering NSW SYDNEY METROPOLITAN Awards for Excellence for 2009.

All you have to do is click on this link and fill out the form:
http://www.restaurantandcatering.com/votemetro_open.htm