...not just for Canadians!

Welcome to Network Canada
Network Canada is professional & social networking group based in Sydney, Australia that's open to everyone, not just Canadians. In addition to being the largest network of North American young professionals living in Australia, we're famous for our quirky, amazing internationally themed events. We also try to help out with travel advice around Australasia, tips for settling in Australia and much more.

Network Canada began in 2002 as a social network for Canadian expats living in Sydney hosting some seriously fun events. Word started to spread and now our events attract young professionals & university students from Australia, USA, New Zealand, France, Italy, Spain, South Africa, Sweden, South America, UK, etc, etc. In fact, our parties have become so popular that companies have started sponsoring them. There's usually 6 to 10 big events every year with anywhere from 1500 to 4,000 people showing up and lots of smaller events!
The goal of Network Canada is very simple: friendly people meeting other friendly people. You're guaranteed to be introduced to new people of all backgrounds and professions and have fun at the same time.
In addition to fun events, Network Canada helps expats settle into life in Sydney by providing guidance on visas, immigration, foriegn currency transfers, insurance, mortgages, travel, etc. We don't always have all the answers but it's worth giving us a try.
Joining Network Canada is free. Just get on the email list, join us on Facebook or Instragram which is where you'll hear about more events, giveaways, etc.! If you're a young professional or university student aged 22-35ish, then you may also want to join our Meetup group where you can arrange events with other young professionals.
Online & offline, it's the same philosophy
Although Network Canada has been around since 2002 and has grown a lot, we still try to keep it all friends and friends-of-friends. As a grassroots group of largely young professionals who want to have fun and network, it has been relatively easy to communicate to everyone via email. However, over the past few years both the database and number of events have grown. So instead of everyone receiving way too many emails, we tend to only send one or two per event and post relevant details on the website or Facebook page.
And no matter what, we'll still conitnue our grassroots approach to building a great network of people through quality events. We'll also only allow sponsors to promote themselves through the network if we genuinely believe they've got good products or something of value to offer.
Our Canada Day bash was awesome!! Even Prime Minister Trudeau got involved and sent us a video message!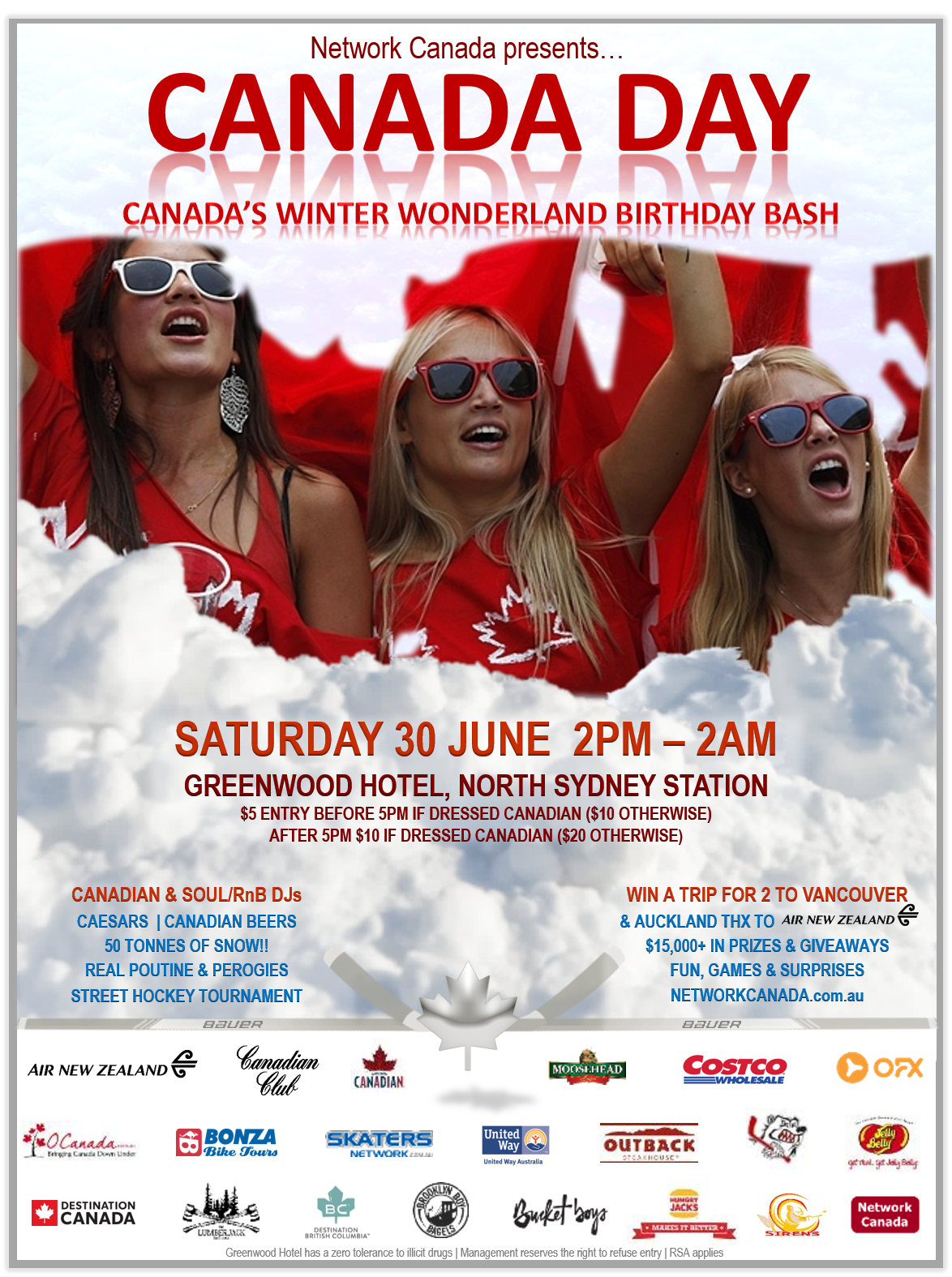 Events & Announcements

30 JUNE 2018 - CANADA DAY!!
Save the date for the biggest & best Canada Day event in Australian history. More...

OVERSEAS VISITOR COVER - our group gets 1 month free with BUPA
Bupa, one of the leaders in health insurance, are giving everyone in our group 1 month free
More...
4 MAY 2018 - CINCO DE MAYO STAR WARS FIESTA... May the Fourth be with you, Ole!
Mexican & Star Wars unite for an awesome party with incredible DJ's lined up...
More...
17-25 FEB 2018 - OLYMPIC ICE HOCKEY: TEAM CANADA
Come and join us to cheer on TEAM CANADA as the men's & women's teams go for gold. Various games...
More...
5 FEB 2018 - SUPER BOWL MONDAY
Need an excuse to take the day off work??? This is the BIGGEST Super Bowl Party in Australia.
More...
1 FEB 2018 - SYDNEY CANADIANS MEETUP & DRINKS
Canucks, it's time to celebrate Canada's beautiful winter by drinking outdoors overlooking Sydney's beautiful harbour
More...
24 DECEMBER 2017 - XMAS EVE DRINKS FOR EXPATS
Our annual xmas drinks for expat young professionals from all over the world
More...
28 OCTOBER 2017 - HALLOWEEN INTERNATIONAL... Biggest Halloween party in the Southern Hemisphere!!!!!!
Once again, we're throwing the biggest Halloween party in Australian history!!
More...
8 OCTOBER 2017 - Canadian Thanksgiving Picnic
Where Canadians give thanks for their many blessings like 7 months of snow & Rob Ford
More...
8 SEPT 2017 - FRIDAY NIGHT DRINKS & NFL SEASON OPENER
One of our most popular excuses to drink!
More...
4 JULY 2017 - US INDENPENDENCE DAY!!
The largest American Independence Day / 4th of July celebration in Australia...
More...
17 MAR 2017 - ST PATS DAY THE NORTH AMERICAN WAY
Join a bunch of North American young professionals to celebrate this sobering holiday!
More...
11 MAR 2017 - A DAY ON THE GREENS
Back by popular demand, this is a day of Lawn Bowls, Cornhole and Beer Pong at Sydney's best bowling club...
More...
28 NOVEMBER 2016 - GREY CUP "MONDAY"... LIVE IN SYDNEY
We're getting together to watch some CFL for the first time ever!
More...
9 NOVEMBER 2016 - US Election Watching Party Live...
We're all getting together to watch the conclusion of the greatest reality TV show of all time... the Uniter States Presidential Election. We're watching it live in downtown Sydney so take the day off work...
More...
21 AUGUST 2016 - Tragically Hip's Final Concert LIVE
Let's farewell The Hip in true Canadian style.
More...
9 SEPTEMBER 2016 - NFL Season Opener
One of our most popular excuses to drink!
More...
28 MAR 2016 - BROS LANDRETH
An amazing Sydney concert with award-winning Canadian band Bros Landreth who are also playing at Bluesfest!
More...
30 NOVEMBER 2015 - GREY CUP "MONDAY" LIVE IN SYDNEY
We're getting together to watch some CFL for the first time ever!
More...
28 NOVEMBER 2015 - AMERICAN THANKSGIVING PICNIC BY THE OPERA HOUSE!
Our 4th annual American Thanksgiving Picnic is a great way for oung professionals to meet each other
More...
30 OCTOBER 2015 - HALLOWEEN INTERNATIONAL - THE BIGGEST IN THE SOUTHERN HEMISPHERE!!!!!!
We're taking over the entire ivy including the Pool Club for what willl be the biggest Halloween party in Australian history!!
More...
31 OCT 2015 - HALLOWEEN FOR KIDS at the Powerhouse Museum
The real way Halloween should be done! Trick or treating, games, movies, entertainers, and much more...
More...
TORONTO BLUE JAYS BASEBALL IN SYDNEY
We're getting together to watch some World Series Baseball in Sydney!
More...
Special rates on Foreign Exchange
Need to transfer some money to or from Australia? We've negotiated a great deal for the group...
More...
15 OCTOBER 2015 - NEWCOMERS HARBOURSIDE DRINKS
An annual pre-Halloween tradition!
More...
3 SEPTEMBER 2015 - FREE PRIVATE CONCERT!!
An initmate evening with incredible, Canadian, musician Ann Vriend
More...
CURRENCY EXCHANGE FAQs now available
We get a lot of queries about the best ways of transferring money to and from Australia so we've researched & negotiated a good deal for everyone...
More...
THE GREEK GAMES
It's time to go back to school with an event that pays tribute to the greatest university style parties ever...the Toga party!
More...
CANADIAN MUSICIANS TOURING SYDNEY. One night only!
And it's free!!!
More...
Visa/Immigration FAQs now available
We get a lot of queries about visas/immigration to Sydney so we've had an expert provide us with some FAQs...
More...

Moving & need to sell
Queen size bed, awesome couch, TV, etc need to sell asap
More Announcements...